There are actually several VW 7 Seater Car Hire possibilities of the popular Volkswagen make—three of them include the VW Touran, VW Sharan and the VW Caddy.
VW 7 Seater Car Rental
Search for a low cost VW 7 seater car rental deal . Cheap van and minibus hire offers available.
Touran vs Sharan vs Caddy:
VW Touran 7 Seater Car Hire
In this review, let's take a closer look at each.
~ Fast Facts
Popular VW 7 seater that's well suited for families.
Robust safety features – includes three point safety belts, ESP, ABS, break assist and air bags for all seats; curtain airbags for front and second row passengers.
Firm, comfortable seats, in addition to comforts afforded to the driver's seat that make prolonged driving more comfortable.
Up to '39 storage possibilities' in this vehicle.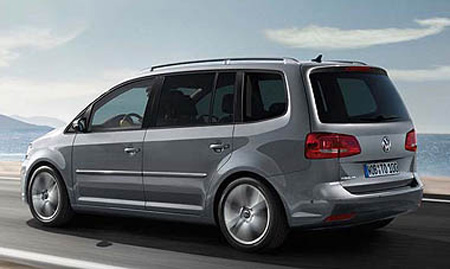 Overview
It might not be the most 'fashionable' vehicle in terms of style. But, when it comes to hosting a holiday trip on the road, style isn't everything.
In fact, this vehicle will provide enough comforts and convenience to suit the entire family. Perhaps that's why many people opt for 7 seater car hire over the 5 seater.
Less Room
This vehicle is actually rather modestly sized for a seven seater; the rear seats fold completely flat, affording a smaller group more space without the cumbersome nature of other similar vehicles.
Storage
In addition to the additional storage provided by the folding seats, the vehicle offers up to 39 storage possibilities within its main cabin. This is convenient for those who need more space to store small odds and ends.
Display and Controls
Drivers will feel comfortable knowing the controls and display are simple to manage, with conventional positioning and the familiar characteristics of modern Volkswagen vehicles.
Performance is good, if not a little deceiving— drivers have commented that this vehicle feels much faster than it actually is, specifically with the version featuring a diesel engine.
Overall, driving this car is comfortable enough for lengthy journeys.
Advantages
Folding seats provide more load space for smaller parties
Body is resilient
Feels faster than it actually performs
Volkswagen 'badge' ensures a quality vehicle
Disadvantages
Expensive in comparison to competitors
Lacking in 'style'
Second row of seats require a bit of work to adapt
Verdict
~ Why You Should Consider a Volkswagen Touran For Hire
It's not the most stylish car, nor the best in its class, but it's a sound rental car for those who need something spacious for their trip. In fact, it's considered one of the better group cars in its class.
You'll love how spacious this car will be feel during a vacation.
Now let's take a quick glance at two comparable Volkswagen 7 seaters in its class: the VW Sharan and the VW Caddy.
VW Sharan 7 Seater Car Hire
The upgraded Volkswagen Sharan brings some much needed upgrades to the existing Sharan. The upgrade notably made use of the then next generation Volkswagen engines, which bought a much needed performance boost to this class of vehicle.
VW Sharan Variations
The vehicle is longer and wider than older models, and has a profile that looks much less like a minivan. Besides this model, there are also 6 seater and 9 seater models available; the variants of this vehicle each provide various degrees of versatility and practicality for both seating and luggage.
Equipment and Luggage Storage
Speaking of seating and luggage, the interior of the vehicle is very spacious and adaptable. The seats themselves can be folded into various configurations to accommodate everyone coming along for the ride, and of course their luggage, as well.
Driving Experience
This vehicle also comfortably accommodates adults in the back most row, so it's not just reserved for the younger patrons of the ride. Drivers will rejoice at the additional glovebox in the central dash-top.
The ride is comfortable despite the size of the vehicle. The assembly and arrangement of the controls and components in the front are easy to use, while the contoured seats provide great comfort for passengers.
Oh, and if it gets a little cold, there's also climate control to warm the carriage.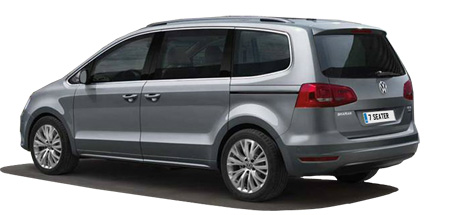 Advantages
Makes for a refined and secure driving experience
Features sliding rear doors for convenience
The 2.0-litre diesel version is a great all around vehicle
Disadvantages
Styling may be a little 'uninspiring' for a more discerning crowd
Space may be too constricted in full third row
A-pillar positioning reduces front row visibility
Versus the Touran?
This vehicle, specifically the 2.0-litre version, will likely provide a comfortable and better performing ride for the price.
VW Caddy 7 Seater Car Hire
Minivan/Minibus
This car also doubles as a mini van and that's well reflected in the fact that this vehicle shows off its roots originating from the popular Caddy.
Due to its van-like nature, this vehicle makes a good hire for groups planning a long trip for their next adventure.
Interior
The Caddy is rather large on the inside, and the space is further extended due to its highly adjustable features. The passenger seats are foldable and the rear most seats can be entirely removed from the cabin.
However, the rear seats aren't entirely easy to remove, but the option is still there for those that do need to remove them.
Folding Seats
Folding down the middle row turns the cabin into a van, what with its characteristic and spacious high roof and plenty of room despite the lack of seats.
This car is also stable and secure when on the road, affording drivers a good driving experience. It is very responsive and a lot more nimble than some would expect on the road.
Speed and Handling
The 2.0-litre model, in particular, works increasingly well, providing enough speed and torque to bus around a full load with little issue.
Although a van in origin, the Caddy is a great vehicle in part due to its practicality and its convenience for families. So, if you need to travel a great distance with plenty in tow, the Caddy is certainly worth considering. People carrier hire is always a good value option for those traveling together wishing to keep costs down.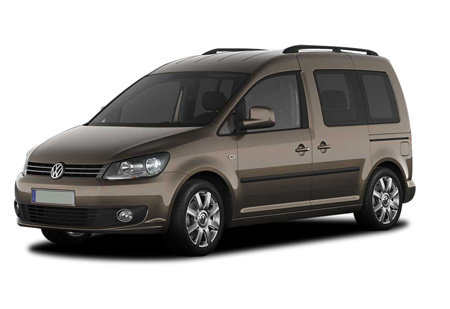 Advantages:
Roomy and practical enough for a family
Economical, yet resilient diesel engine
Disadvantages:
Rear seats are a little awkwardly placed
Taller tailgates restricts opening
Removing rear seats is difficult
Versus the Touran?
This vehicle is a great option for those who want a spacious and smooth performing vehicle.